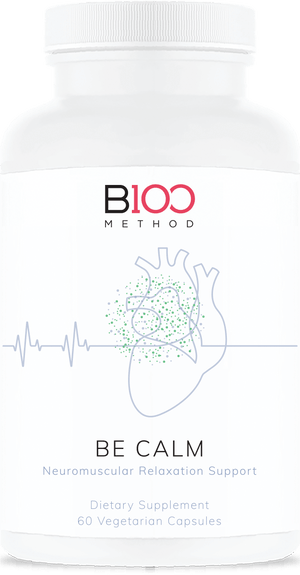 Be Calm
Sale price Price $30.00 Regular price Unit price / per
"Relax Your Body - Relax Your Mind - Live to B100 " – Dr. B
An overworked brain directly affects your body's performance. Unfortunately, a regular work day can be enough to leave you feeling tired and stressed. And if you already have chronic insomnia and/or muscle problems, it's sometimes just too much to handle. Enter
Be Calm
.
Be Calm
is a natural blend of calming herbs and minerals designed help relax tight/spastic muscles and ease occasional discomfort from overworked muscles. It features botanical extracts traditionally used to calm nerves and muscles and address occasional sleeplessness plus minerals to support healthy muscular contraction and relaxation.*
Be Calm
acts quickly to reduce mental and physical stress, and because it's all natural,
Be Calm
won't cause the undesirable side effects like drowsiness and confusion that often occur with conventional anti-anxiety and muscle relaxant medications.
Clinical Applications

Traditionally-Used Botanicals That Address Relaxation and Occasional Sleeplessness*
Muscular Calming Formula*
Targeted Minerals That Promote Healthy Muscular Contraction/Relaxation*
Contributes to Muscle Recovery Following Exercise*