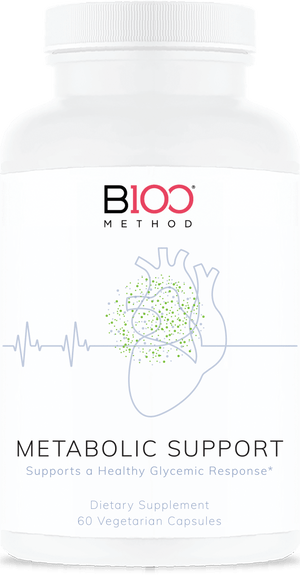 Metabolic Support
Sale price Price $88.00 Regular price Unit price / per
"Metabolic Support is simply the best scientifically proven supplement to provide superior control over blood glucose responses following meals high in starch and sugar!" – Dr. B
Metabolic Support provides a blend of the two most powerful all natural ingridents, Berberine & Insea 2,  proven to 
neutralize the negative impact of blood glucose spikes upon consumption of starch and sugar to maintain optimal insulin levels.  
Metabolic Support should be used by anyone with Predi
abetic and Diabetic concerns.  
Berberine: Berberine is found within the stems, bark, roots, and rhizomes (root-like subterranean stems) of numerous plants such as barberry, goldenseal, Oregon grape, tree turmeric, and Chinese goldthread.   It works at a cellular level, helping move glucose (sugar) from your blood into your cells where it's most needed. Berberine is so effective at balancing blood sugar that both animal and human studies compare it to metformin in its effectiveness.
InSea2®:  InSea2® is a blend of polyphenols derived from the wildcrafted brown seaweeds Ascophyllum nodosum and Fucus vesiculosus that is sustainably harvested from the North Atlantic Ocean. InSea2 plays a role in the inhibition of alpha-amylase and alpha-glucosidase, two key enzymes involved in the digestion and assimilation of starch and sugar.  Clinical studies have shown that InSea2® reduces post-meal blood glucose levels by 48,3%, insulin levels by 12,1% and improve insulin sensitivity by 7,9% immediately upon the first use. After 4 months of use participants of the study lost up to 4.3 inches off of their waist.

Maintenance of blood glucose is one of the cornerstones of health.
Clinical Applications

Supports a Healthy Glycemic Response to Foods
Helps Support Healthy Blood Glucose Levels
Assists with Weight Management