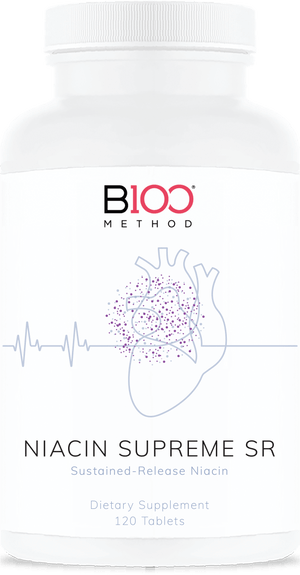 Niacin Supreme SR
Sale price Price $67.00 Regular price Unit price / per
"Niacin is one of the most studied and documented nutrients for support of high-density lipoprotein cholesterol (HDL-C) levels, BUT proceed with caution not all over the counter Niacin supplements are created equal." – Dr. B
Niacin is an essential B-vitamin (Vitamin B3) that can help a multitude of cardiovascular problems, from high cholesterol to high blood pressure. In fact, niacin is given by cardiologists and other doctors as a prescription medication as the brand-name drugs Niacor and Niaspan.  The cardiovascular benefits of niacin (vitamin B3) were introduced in the June 1956 issue of Mayo Clinic Proceedings. The Framingham Heart Study also confirms the benefits of niacin on lipid metabolism. A decade later, as the study continued, researchers labeled niacin "front-line" cardiovascular support. This status was further reinforced in 1988 when the National Cholesterol Education Program (NCEP) panel designated niacin a "first-line therapy" for support of specific parameters related to cardiovascular health.

The B100 formulated Niacin Supreme SR, is a sustained-release niacin featuring a lesser flushing effect compared with instant-release niacin. Use of a proprietary, wax-coated technology permits release that is complete in seven to eight hours, the time that is considered ideal for a time-release form of niacin.
Mechanisms of Action
Studies suggest niacin can modulate lipoprotein biosynthesis in the liver, inhibit the release of free fatty acids from adipocytes, inhibit synthesis of apo B, induce lipoprotein lipase, and help maintain the structure and function of HDL (high-density lipoprotein) by reducing the amount of apo A-1 broken down from HDL during hepatic processing.[4,5] In addition, when niacin is used with resins, it can stimulate bile flow and may therefore affect lipid biosynthesis.
Clinical Applications

Supports Normal Carotid Intima-Media Thickness (CIMT)
Supports The Maintenance Of Healthy Blood Lipids
Raises Good Cholesterol (HDL) Levels
Lowers Production Of Bad Cholesterol (LDL And VLDL)
Lowers Production Of Lipoprotein(a) [Lp(a)]
Dilates Blood Vessels
Reduces Blood Viscosity (Thickness)
Atherosclerosis (Coronary Artery Disease)
Reduces High Blood Pressure
Reduces Risk Of A Second Heart Attack
Reduces Risk Of Peripheral Artery Disease (PAD) And Intermittent Claudication