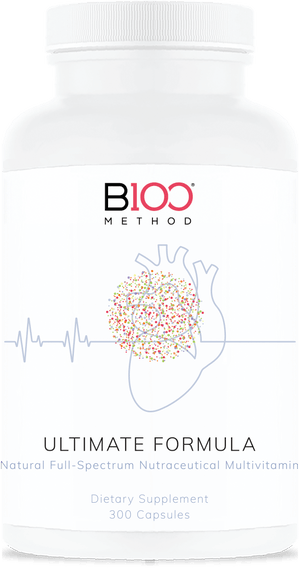 Ultimate Formula
Sale price Price $134.00 Regular price Unit price / per
"My personal f
ormulation, using the most advanced clinical research, the Ultimate Formula has e

verything you need in a daily multi-vitamin - plus more, with purity and potency guaranteed!" – Dr. B


 

We understand you probably don't have the time to take dozens of extracts, minerals, and supplements on a daily basis that your body needs. So, we present to you the ultimate in multivitamins: Dr. B's Ultimate Formula!

 
What Makes This Ultimate Formula so Ultimate in Formulation?
The unique combination of good science, premium quality ingredients, and caring make Dr. B's Ultimate Formula the optimal one-stop supplement that provides your entire body with comprehensive nutraceutical support to improve your health in a multitude of ways.
It's in the Bottle!
Here's a brief rundown of some of what makes this Ultimate Formula something to be excited about:

Natural forms of B vitamins: Vitamins B1, B2, B6, B12. No synthetic supplements here!
Chelated minerals in their most absorbable forms. No more stomach upset!
Natural forms of Vitamin E (mixed tocopherols)
Natural Vitamin A (palmitate and natural mix of carotenoids)
Powerful natural antioxidants , anti-inflammatories, and detoxifying agents such as resveratrol, carotenoids, grape extracts, pomegranate, curcumin, bilberry, lutein, lycopene, green tea, quercetin, carnosine, citrus fruit flavonoids, extracts of organic fruits and vegetables, and more!
It's in You!
A wealth of clinical studies demonstrate the ingredients used in Ultimate Formula help support:

Increased energy, improved physical performance
Maximized metabolism
Regeneration of important tissues: skin, blood vessels, bones, muscles, and internal organs
Reduced risk of major diseases. Such as: Cardiovascular diseases (heart attack, atherosclerosis, stroke), Many types of cancer, Unwanted weight gain, metabolic syndrome, and type 2 diabetes
Our purity is guaranteed.  We put your health and wellness first!