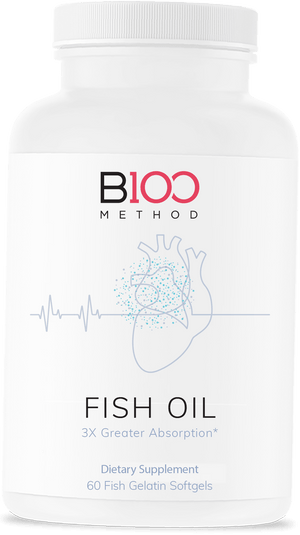 Fish Oil
Sale price Price $49.00 Regular price Unit price / per
"Three Times Greater EPA/DHA Absorption" -Dr. B
It's hard to find a part of the human body that isn't dependent on healthy cells and tissues. Fatty acids are a critical building block of cells and tissue, and of great importance in maintaining their health and proper functional range. Fish provides the most abundant source of these fatty acids. Equally important to your health is the purity of the supplements that help support it. Many preparation methods can destroy the fish oil by oxidizing them. Eating fish indiscriminately can expose you to mercury and other environmental contaminants. Fortunately, there are ways to ensure purity, consistency, and quality in fish oil.
This Fish Oil used in our supplements was selected by Dr. Bereliani after extensive research. It features natural enzymatically enhanced MaxSimil® monoglyceride fish oil that has a three times greater EPA/DHA absorption rate than an equivalent dose of ethyl ester fish oil. This IFOS five-star certified fish oil outperforms other fish oil supplements through MaxSimil patented lipid absorption enhancement technology (PLATform).
Purity is guaranteed in the production standards, which controls for toxic contaminants such as mercury and various environmental pollutants which are sometimes present in lower grade fish oil.  These stringent procedures also ensure that the Fish Oil is not oxidized, which can be very detrimental to your health.
Clinical Applications
Reduce risk of most cardiovascular problems, such as heart attacks, strokes, blood clot risk and arrhythmia

Reduces LDL (bad cholesterol), triglycerides, LP(a) (a predictor of clotting risk)

Increases HDL (good cholesterol)

Reduces blood pressure, improving blood circulation through proper blood vessel dilatation

Reduces inflammation and pain (reduces CRP-a blood marker of inflammation)

Supports the body in efficient fat burning, optimizing weight loss

Can support sexual function in several ways for both women and men, and can have a positive effect on erectile dysfunction due to poor circulation

Improves brain function, stabilizing mood and reduces risk of depression

Absolutely necessary for a healthy and radiant skin tone, and healthy eyes

Reduces risk of auto-immune diseases and osteoporosis

Prevents or reduces the severity of degenerative conditions such as arthritis and inflammatory diseases such as colitis and Crohn's disease

Can aid in reducing severity of symptoms associated with Alzheimer's disease and dementia